Save The Date Cards
Choose from the many elegant and modern save the date cards we offer. You can either go the fun and casual route with some whimsical shapes and designs, or go more traditional with a fairly plain card.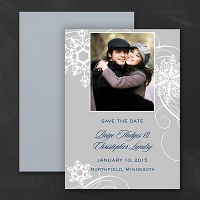 Spinning Snowfall Save the Date
A snowflake design along with your photo is shown on this save the date magnet.
$145.90 per 100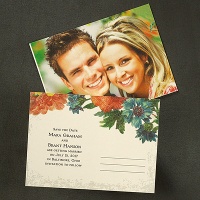 Rustic Garden Save the Date Postcard
Bright garden flowers are shown on this save the date postcard and features your photo.
$116.90 per 100
we do! Save the Date
Save the date with this bright white, z-fold save the date card featuring a unique, contemporary design. "we do!" and "save the date" are part of the design and will change with your ink color. The swirl design will always be printed in grey as shown.
$70.90 per 100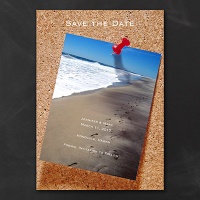 Tacked to Remember
This unique save the date announcement has a beach photo on a corkboard with a red tack, preparing your guests for a get-away wedding!
$124.90 per 100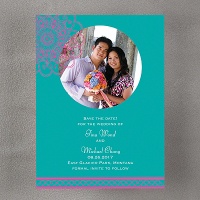 Bombay Beauty Save the Date
A teal and fuchsia designed card featuring a photo of the engaged couple.
$136.90 per 100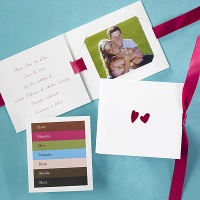 Double Hearts
Make your save the date more personal when you include a photo of you and your fiancé. Give the details of your upcoming wedding on the left panel.
$149.90 per 100
First Dance Scratch Off
Mickey and Minnie are sharing their first dance like you are soon to be. Inform future wedding guests of your date with this Classic Mickey and Minnie Save the Date Scratch off.
$168.90 per 100
Home
Copyright © 2016 Savethedatecards.biz - All Rights Reserved - Date: 12/8/2016